The cooperation agreement made in 2017 gave the green light to a 7-year educational programme, which allows students of the Chinese university to study Hungarian language and culture for two years in China first, then to spend a year studying Hungarian at UD.
– After completing the course here, the programme continues at BISU to end with an examination designed by lecturers of UD. This is also an entrance examination, which means that those who successfully pass the exam can start a 3-year Bachelor programme in Debrecen, in Hungarian language – explained Péter Csatár to hirek.unideb.hu. The vice dean for educational affairs of the Faculty of Humanities highlighted the importance of promoting the Hungarian language with a view to facilitating the development of international cultural and business relations.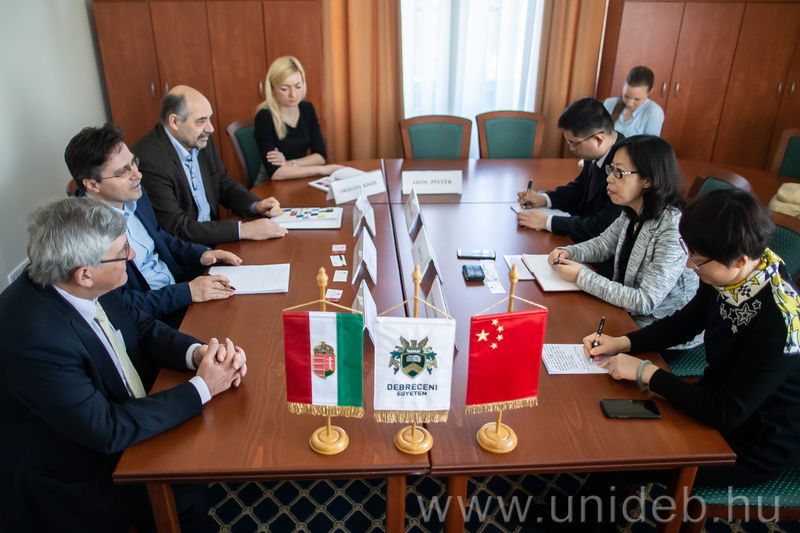 The University of Debrecen plays an important part in the programme through hosting Chinese students who want to learn Hungarian in Hungary for a year.
The 3-member Chinese delegation of the Beijing International Studies University, led by Cai Jian, head of the International Office, talked to the representatives of UD about broadening the scope of the programme, specifying the conditions of the Bachelor programme, and the preparation of the related agreement on Tuesday.
Currently, over 100 Chinese students study Hungarian at BISU, while 38 go to UD. Of them about 20 are expected to start the BA studies in Debrecen in 2020, providing they pass their exams.
Press Office