On behalf of one of the most prestigious Chinese universities dealing with communication sciences, the educational, science and cultural agreement was signed by Chen Wenshen, president of the University Council at the consultation held at the Rectorial Council Hall on 21 October. The University of Debrecen was represented by Ákos Pintér vice rector for general affairs and Péter Csatár, vice dean of the Faculty of Humanities.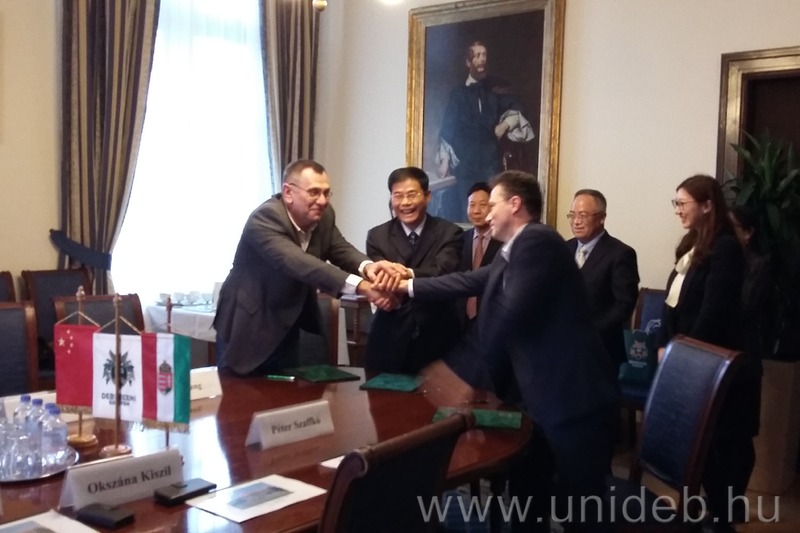 The Communication University of China is a central institution in the fields of journalism and film sciences in China, strongly supported by the Chinese government in the framework of the Project 211 strategic development programme. In 1954, the university mainly trained media technicians. From 1959, it operated under the name Beijing Broadcasting Institute until 2004, when it acquired its current name. The university focuses on the education and research of the commercial industry, digital art and animation.
On behalf of the Chinese university representatives from the Institute of Commercials, the Institute of Film Art, the Institute of Animation and Digital Arts, the Institute of Foreign Languages, and the Office for International Affairs participated in the consultations. The University of Debrecen was represented by the Department of Communication and Media Science and the Debrecen Summer University.
Following the introduction of the University of Debrecen, the Faculty of Humanities and the Department of Communication and Media Science, the Chinese representatives suggested that the two universities should launch student, lecturer and knowledge exchange programmes. At UD Chinese students could learn about Hungarian good practices in the fields of country image building, city branding and advertising, as well as about the special features of Hungarian radio and television genres, in English-language lectures. Besides, Hungarian lecturers can also teach Chinese students in these topics in Beijing. Also, Hungarian students can attend academic programmes in Beijing, and Chinese lecturers can teach in Debrecen about animation and digital arts, which Hungarian media arts students are less familiar with.
Both parties highlighted the fact that at the Chinese university there is an intense interest in learning and teaching the Hungarian language. In this regard, cooperation can be based on the experience of the Summer University. President Chen said that CUC finds Hungarian-language education important because the university in Beijing does not have enough language teachers, so it would be a great benefit if Chinese students could learn Hungarian in Debrecen for a year. At the same time, CUC would receive Hungarian-language teachers to strengthen their language programmes.
Press Office